How to choose the perfect sports flooring surface for the right sports?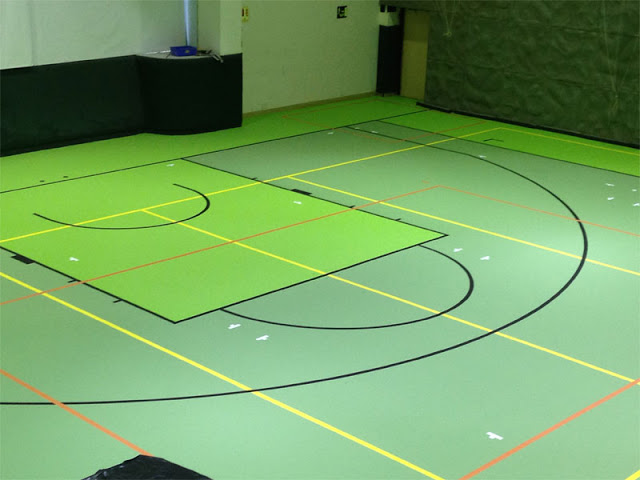 The sports world is vast with hundreds of sports to choose from. Each sport is played on a different surface. Every sport has particular physical dynamics which when attempted on the wrong surface can cause injuries to the athlete. Even the sport could be the same but the area where it is played, can also affect the performance, for example, the type of flooring for football and Futsal can be totally different. Soccer requires a soft surface like (like natural or artificial turf) while Futsal needs a hard surface with a smaller play field. The sports floors are made game specific to accommodate better shock absorption and overall performance.
Type of Sports Flooring
1. Indoor Sports Flooring
There are dozens of indoor sports that are played such as basketball, wrestling, volleyball, badminton, and track among several others. When picking the indoor flooring , one must always seek the type of sports being played. The following are the most common type of floors for Indoor sports.
a) Hardwood Flooring
When we consider Squash, Badminton or Basketball floors, our first thought is hardwood flooring. This flooring surface is very durable and has the best ball bounce and anti-skid technology. Most hardwood floor systems have rubber pads or subfloor systems that absorb shock and provide safety to the athlete from any muscular or skeletal damage. The flooring can be Engineered or Solid. However due to its resistance to change of temperatures, moisture & above all ease of maintenance the Engineered Hardwood floors are getting more popular.
b) Polyurethane Sports Flooring
Polyurethane is considered as the most budget-friendly and durable type of athletic flooring. The flooring can withstand heavy impact and equipment. It also is very easy to maintain since dirt and other stains can easily be removed. This sports flooring is very popular in the schools & institutes, where multi-sports floors are required. PU flooring not only reduces the cost of maintenance of the sports floor, but also provides the owner with the option to use for non-sporting events. This makes it a perfect option where space constraints do now allow the liberty for multiple areas for different sports & other activities. The cost of re-surfacing is not very high & gives the owner an opportunity to renew the floor very economically. PU floors can technically last the life of the building.
c) Vinyl & Rubber Flooring
These type of Sports floors are also considered a popular option for indoor flooring surfaces. They are economical & easy to install. The main issue with these type of floors is maintenance & low life cycle. They cannot be resurfaced & would require complete replacement of the floor. Due to their low prices they may be suitable for small areas with limited usage. They are also good for recreational sports. PVC sports floor are used as temporary Badminton courts for International events.
2. Outdoor Sports Flooring
Outdoor sports flooring surfaces need to be extremely resistant to wear and tear, considering they are exposed to weather, and continue to provide athletes with traction and shock absorption. There are various surfaces that can be used for outdoor sports viz. Rubber, Acrylic, Artificial Turf, PP tiles, Polyurethane etc. Here we mention the two more popular surfaces.
a) Acrylic:
Acrylic sport surfaces are the most popular surfaces used for outdoor sports viz. Tennis, Basketball, Volleyball etc. Using different cushion layers or rubber shock pads, the surface can be modified to fulfill the criteria required for the sport. Normally outdoor areas are large areas and Acrylic being an economical option is mostly preferred. Besides, these surfaces provide the necessary traction & UV resistance required for outdoor sports. Tennis, at all levels, is almost always played on this surface. The Grand Slams, ATP Masters as well as the Olympics use this surface. Acrylic sport surfaces are all weather surfaces & do not require very heavy maintenance. To retain its playing characteristics, they may need re-surfacing every 5-6 years.
b) Artificial Turf:
There has been great technological enhancement in the production of artificial turf. Due to the high maintenance costs of natural fields & the limitations of the number of hours of play per week, Artificial Turf has continually grown in popularity. The advancement in yarn technology & the methodology of installation has progressed in a way to close the gap between the natural & synthetic surface. The sports federations like FIFA, IRB & the IHF have also laid out norms to ensure that certain standards of playablity & player safety are maintained. This not only protects the athletes but also provides a guide to potential owners, so that the necessary decision can take place. Top Football clubs have stated to accept the advantages of the artificial turf & many have converted their natural pitches to artificial. Hockey has moved completely to artificial turf & all National & International competitions are now played on synthetic turf. The initial cost of investment is the only deterrent for arenas moving to artificial turf. Though it is a matter of time before they realize that the life cycle costs & benefits offered far outweigh the deterrence.